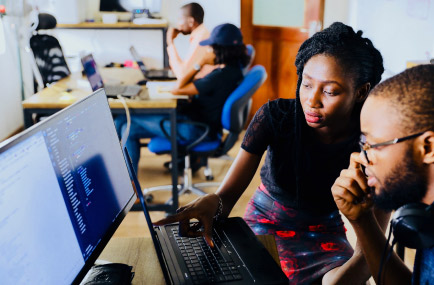 Simple & Secure Solutions
Millennium Bank Business Checking and Money Market accounts are designed to offer a simple, secure banking solution for business owners. We know that having a convenient and secure account for your business is important to you, so it's important to us.  Millennium Bank Business Banking Team will provide a free analysis of your business banking needs.
Business Accounts We Provide
Business eAdvantage Checking
 Checking account for smaller businesses with basic banking needs.
Commercial Analysis Checking
Checking account for businesses with high average balances and activity.
Business Money Market
Checking account for mid-size businesses with high activity.
Tennessee Market only. For Florida Market accounts, contact local branch. 
Business Money Market Plus
Checking account for large businesses with advanced banking needs.
Tennessee Market only.  For Florida Market accounts, contact local branch. 
Cash Management Services
Improving your company's cash flow is vital to your success in today's competitive market. At Millennium Bank, we can help you do this on several fronts including reducing the time it takes to collect or disburse funds and streamlining day-to-day banking functions to help cut costs, enhance income, and increase convenience.

What is cash management?
Cash management is not a single service. It is the design and implementation of many bank services customized to the unique needs of your company.

Automated Electronic Payment Collection
If your company collects payments from your customers on a recurring basis (i.e., club or association dues, monthly rental fees or lease payments, etc.), you can streamline your collection process by electronically drafting your customers' bank account for the amount due.

Disbursement Services and Zero Balance Accounts
If your company uses separate bank accounts for different departments or disbursement functions, consider Millennium Bank's Zero Balance Account. A Zero Balance Account, or sub-account, is linked to your Master ("operating") account and always maintains a zero balance. Checks you write on your sub account(s) (i.e., payroll, payables account, expense reimbursement, etc.) are automatically "covered" by a transfer of funds from the master account when they are presented for payment. You receive separate bank statements for each account at month-end.

Automated Electronic Payments
Direct Deposit of Payroll
Instead of issuing payroll checks, pay your employees electronically. It is inexpensive and less time consuming. The funds are automatically transferred from the company's payroll account to each employee's personal bank account.

Vendor Payments
Do you make repetitive payments to the same vendors? You can reduce the cost of printing checks, postage, and your employee's time by making these payments electronically. It's fast and easy.

Internet Banking
Now you can use your home or office computer to connect to your Millennium Bank accounts, making everyday banking easier than ever. It is like having one of our offices at your fingertips! A few keystrokes and clicks of the mouse gives you access to the following account information and transactions whenever you like:
Check your balance
Transfer funds
View Your Checks
Print Your statement
Make a Loan Payment
View Your Transactions
Verify a Deposit
Download transactions into any of your financial software

Image Statements
All images of items are stored on optical discs. You no longer have to maintain boxes of returned checks. Images of each check and deposit ticket are returned with your statement. You may obtain a certified copy of any image if it is ever needed for any reason. You may also view front and back images of current transactions with our Internet Banking Service.

Investment Services
Automated Investment Plan (REPO Sweep)
Would you like to maximize the use of excess balance in your checking account by earning a competitive rate of interest while keeping the funds readily accessible? Millennium Bank's Automated Investment Plan can help.
With our REPO sweep, your checking account is linked to an investment account. Excess funds are automatically invested daily after checks, deposits, and other items have cleared. Those funds remain invested until they are needed to cover checks, minimum balance requirements, or other withdrawals. These investments are not FDIC insured.