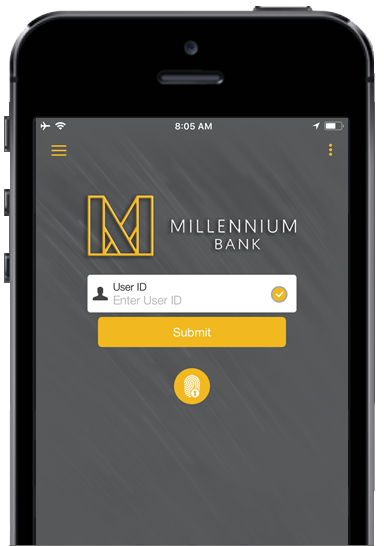 Welcome to Mobile Banking
The Millennium Bank Mobile App allows you to access your account information using your existing Internet Banking ID and Password from your iOS or Android-powered mobile device.
Mobile Banking App Features:
Check account balances
View transactions
Deposit checks
Transfer funds between accounts
Pay bills
Find Millennium Bank locations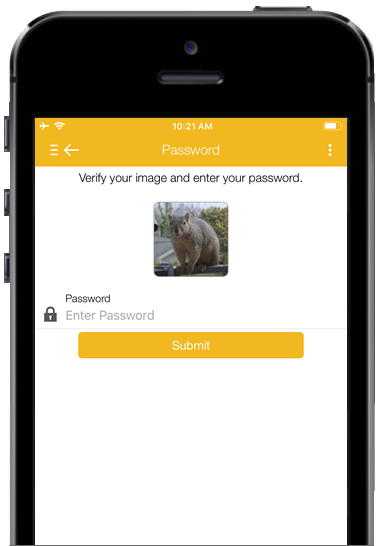 Safe & Secure
Millennium Bank's Mobile Banking App is secure. Account information is not stored on your mobile device. All of the security features available in Internet Banking are in place to safeguard your privacy and protect your account information.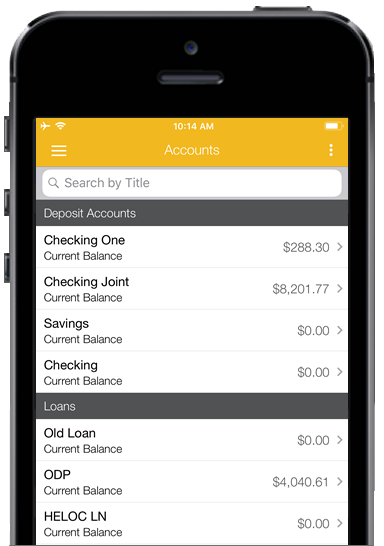 Accounts
Get an overview of all of your Internet Banking accounts, including balance information. Simply click to view recent transactions. Swipe an account to the left to review account details.
To alter your view from the Account List to the Account Cards, simply click the Auxiliary button at the top right and select the preferred option.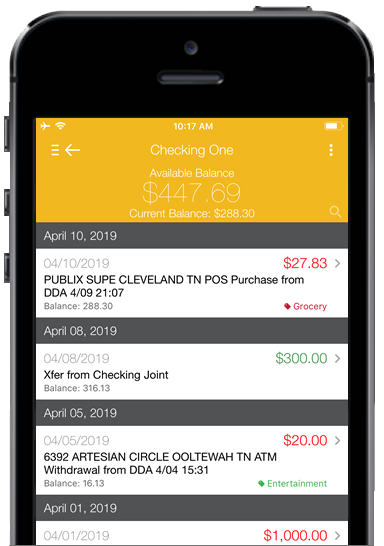 Transactions
Access your transaction history to review the date, item description, and dollar amount for each credit or debit on your account. Check images are also available for your review.
Click on the transaction to view additional transaction details.
View check images
See geolocation details
Add a transaction tag
Add a note
Take a picture of the receipt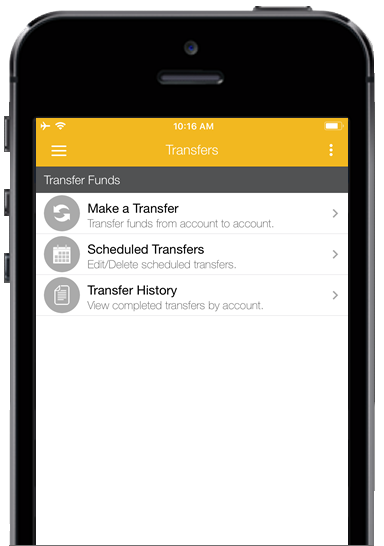 Transfers
Managing your Millennium Bank accounts has never been easier. Making a transfer, editing scheduled transfers, and viewing transfer history is made simple with the mobile app.
Available transfer options:
Make a Transfer - Transfer funds from account to account
Scheduled Transfers - Edit/Delete scheduled transfers
Transfer History - View completed transfers by account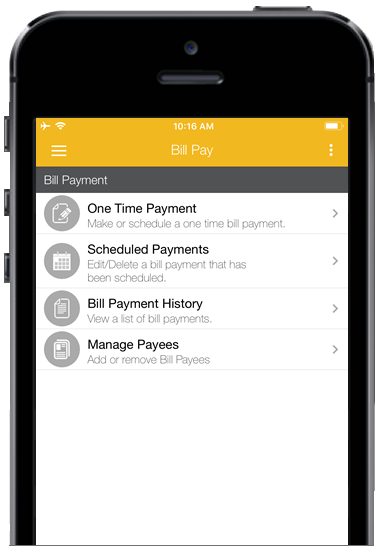 Bill Pay
Forget to send a payment? No problem. With the mobile banking app, you can set up one-time payments, monitor scheduled payments, view payment history, and manage payees.
Available Bill Pay Options:
One Time Payment - Make or schedule a payment
Scheduled Payment - Edit/Delete scheduled payment
Bill Payment History - View completed bill payments
Manage Payees - Add/Remove bill payment payees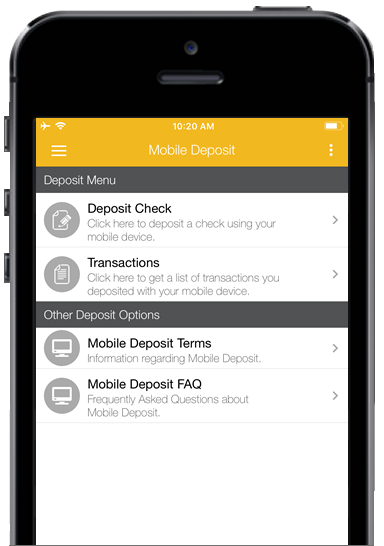 Mobile Deposit
Qualified mobile banking customers can access our Mobile Deposit service via the Mobile Banking App to deposit checks and view recent transactions from wherever they are. Enrollment on Mobile Deposit is available to customers who meet the necessary eligibility requirements.
To submit a check for deposit:
Enter the check information (Account & Amount)
Use the camera on your device to photograph the front and back of the check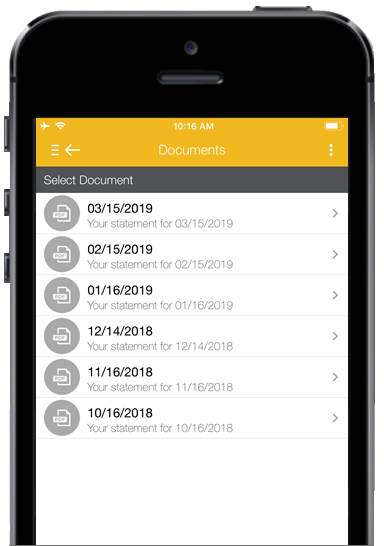 Statements
Access your account statements anytime, anywhere with Millennium Bank's Mobile Banking App.
Consider the benefits of Statements:
Secure - Helps protect you from identity theft
Fast - Don't wait on mail, review anytime, anywhere
Convenient - Store past statements digitally
Paperless - Reduce unnecessary paper and go green
Free - Statements available at no charge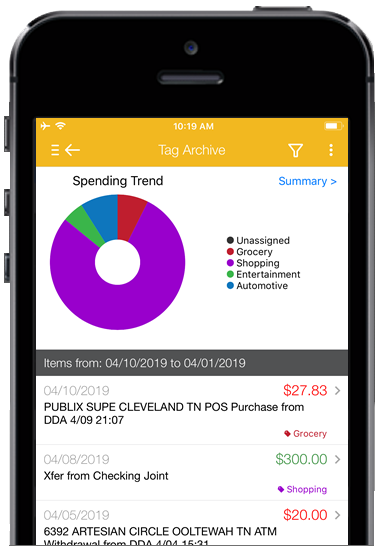 Tagged Transactions
Turn your transaction history into your own customized view. Tag a transaction, add a note, and even take a picture of the receipt to help organize your transaction history.
Transaction Options:
Tags - Classify transactions to help manage your money
Notes - Add a personal notation to the transaction
Receipt - Take a picture to add a visual reference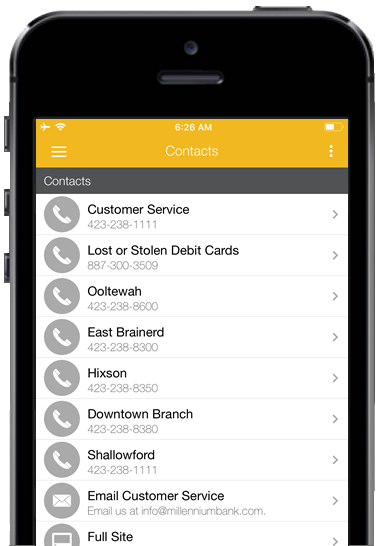 Contacts
Need assistance or have a question? Simply visit the Contacts menu to give us a call or send us an email.
Contact Us menu options:
Customer Service - Contact our customer service team
Lost/Stolen Card - Report your card lost or stolen
Ooltewah - Contact our Ooltewah branch
East Brainerd - Contact our East Brainerd branch
Hixson - Contact our Hixson branch
Downtown Branch - Contact our Downtown branch
Shallowford - Contact our Shallowford branch
Email Us - Contact us via unsecured email
Full Site - Visit our home page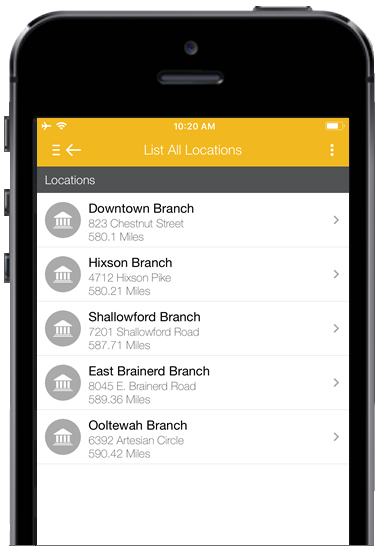 Locations
On the go and looking for a Millennium Bank Branch? Use the Locations menu to view a list of our locations or select the desired location to show additional details.
Access the details of each location:
Location Name
Physical Address
Phone & Fax Number
Hours of Operation
Distance/Directions To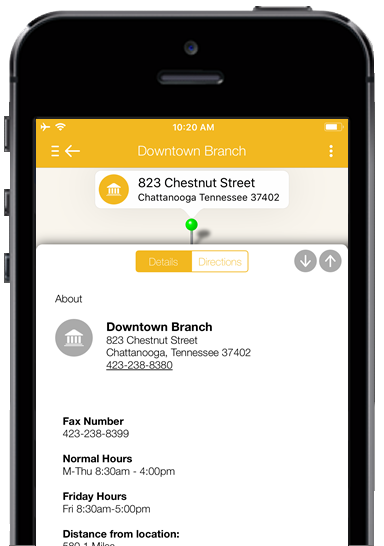 Locations - Details
Take the locations feature one step further by pinpointing the desired location with a mobile map.
Access the details of each location:
Location Name
Map of Location
Physical Address
Phone & Fax Number
Hours of Operation
Directions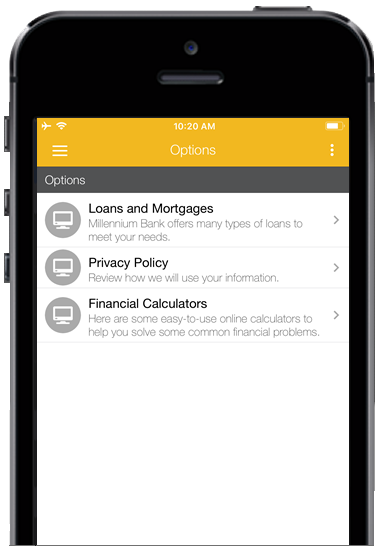 More Information
Visit the More Information tab to access a host of bank information.
More information options:
Loans and Mortgages
Privacy Policy
Financial Calculators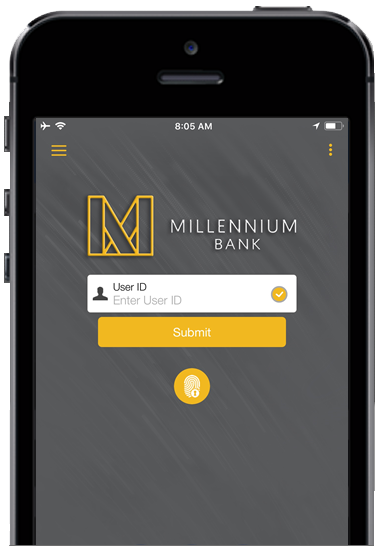 Go Mobile Today!
So, what are you waiting for? Download the app today using one of the App Store icons listed below. Once the app is downloaded, login with your Internet Banking ID and Password to start banking on the go.