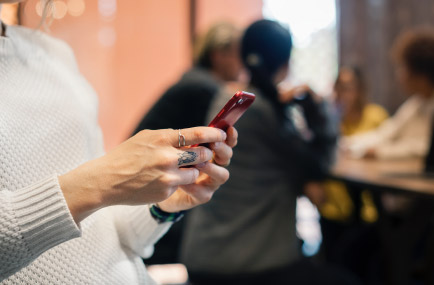 Packed with benefits and perks

Receive all of the Millennium Club Plus services and security benefits for a low monthly fee.
Financial Services

Low Monthly Fee

Receive all of the Millennium Club Plus Checking service for a low monthly fee of $9.00.

Unlimited Check Writing
As a member of the Millennium Club Plus Checking account, you may write as many checks as you want at no additional charge.

Personalized Check

Our standard basic checks will be provided to you at no additional charge as a Millennium Club Plus Checking member.

Cashiers Checks
When you need a bank cashiers check, just ask us. We will issue it at no charge. Limit three issues per month.

24 Hour Banking
Made easy with your ATM / Visa Check Card* 24 hours a day, 7 days a week, 365 days a year. As a member of Community Club Plus Checking, there are no fees for withdrawals on bank premises. Some restrictions may apply.
Interest Advantages

Earn Interest
As a Millennium Club Plus Checking member, you may receive interest on your account by keeping qualified balances. Interest compounded monthly.
Security Benefits

$10,000 Accidental Death & Dismemberment Insurance with $100,000 Common Carrier Insurance, plus $2,500 Dependent Child
Coverage is provided immediately at no additional charge. If joint account, total coverage is divided evenly. You may elect additional coverage. This product is not insured by the FDIC. It is not guaranteed by the bank. It is not a deposit.

Living Family Journal
Create peace of mind from the convenience of your personal computer. Organize, record, and document personal, medical, and financial information with your Living Family Journal.

Identity Theft 911
Identity Theft 911 gives you and your family the information you need to reduce your risk and protect against identity theft. Consumer education features include the Identity Theft 911 Newsletter, FRAUDED threat alerts, and articles, all via website access. The Identity Theft 911 program offers proactive measures, consumer education, and resolution services in the event of an identity theft.
Health Provisions

Prescription Drug Discounts
This card is available through the Neighborhood Pharmacy. You and your family will receive discounts on many of your prescriptions through local participating pharmacies.

Hearing Instruments Discounts
We have made arrangements with a hearing service for fantastic discounts on hearing instruments. Members receive free hearing exams and 15% off auditory devices at Beltone location or the availability to save 60% on mail order.

Prescription Eyewear Discounts
You receive guaranteed lowest prices on eyewear at thousands of locations nationwide, plus a 30-day satisfaction guarantee. You also have access to a network of ophthalmologists, in selected markets, providing members 10% to 30% discounts on qualified procedures.
Account Details
| Item | Details |
| --- | --- |
| Minimum Opening Deposit | $100 |
| Maintenance Fee | $9 |
| Interest | Maintain a minimum daily balance of $1000, compounded monthly |
| Checks/Deposits | Free Checks |
| Allowance Per Month | Unlimited |
| Safe Deposit Box | 50% off original price |